Gen. Douglas MacArthur DeMolay Alumni Chapter No. 5 - 25th Anniversary (1992-2017)
---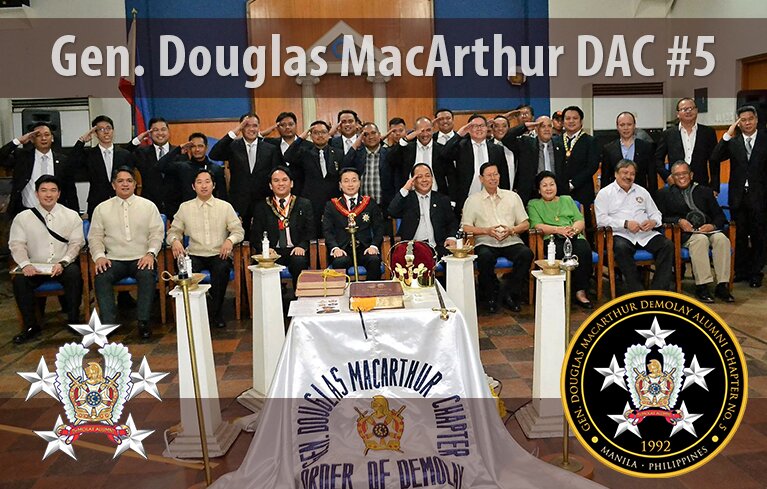 Gen. Douglas MacArthur DeMolay Alumni Chapter No. 5 - 25th Anniversary (1992-2017)
Gen. Douglas MacArthur DeMolay Alumni Chapter No. 5 (Manila), which is under the jurisdiction of the DeMolay Alumni Association of the Philippines (DAAP), celebrated its 25th year founding anniversary with the holding of the Public Installation of its Officers for term 2017-2018 held on March 25, 2017 at the Scottish Rite Temple along Taft Avenue, Manila.
Brother Legionnaire Alvin L. Llanderal, Chev. LOH presided over the installation ceremony as the Installing Officer with Brothers Raymond Charles R. Anicete as Installing Marshal and Quintin Cyril Parrilla as Installing Chaplain.
The new set of officers of the stated alumni chapter are as follows: Brother Jose Hilario Amor as Chapter President; Brother Albert V. Manlulu, Chev. as Vice President; Brother Donnie P. Cordero as Secretary; Brother Mark Henson S. Tio as Treasurer; Brother Rowan N. Labro, Chev. as Auditor; Brother Edgar Cruz as Public Relations Officer; and Brother Quintin Cyril Parrilla as Chaplain.
Hon. Edison Abella, LOH DGC, newly installed Grand Master of the Supreme Council, Order of DeMolay of the Republic of the Philippines and a member of Manila-Mt. Lebanon Lodge No. 1, which is the Sponsoring Body of Gen. Douglas MacArthur Chapter, Order of DeMolay graced the occasion as the Guest of Honor and Speaker. Grand Master Abella encouraged everyone to support and be involved in the preparations for the worldwide celebration of the 100 Years Centennial Founding Anniversary of the Order of DeMolay in March 2019.
The other notable dignitaries who attended the affair were: MW Rosendo C. Herrera, Past Grand Master of Masons and Grand Master Emeritus of the Supreme Council, Order of DeMolay; Mom Ching Herrera, President of the Federated Mothers Club of the Philippines; Honorable Legionnaire Francisco M. Lovero, Honorary Past Grand Master of the Supreme Council, Order of DeMolay; WB Kenneth Chua Cham, Worshipful Master of Manila-Mt. Lebanon Lodge No.1 and Chairman of the Advisory Council of Gen. Douglas MacArthur Chapter; and Brother Noel Rivera, Charter Master Councilor of Gen. Douglas Macarthur Chapter.
The following Brethren were also inducted as members of the Board of Trustees of the alumni chapter: Brothers Ricarte Abejuela III; Leg. Eric Atanacio, Chev. LOH; Matthew Beltran; Edgar Cruz; Jesus Lava III; and Jeffery U. Villalino, Chev.