DeMolays From Bataan Organizes Blood-Letting Project
---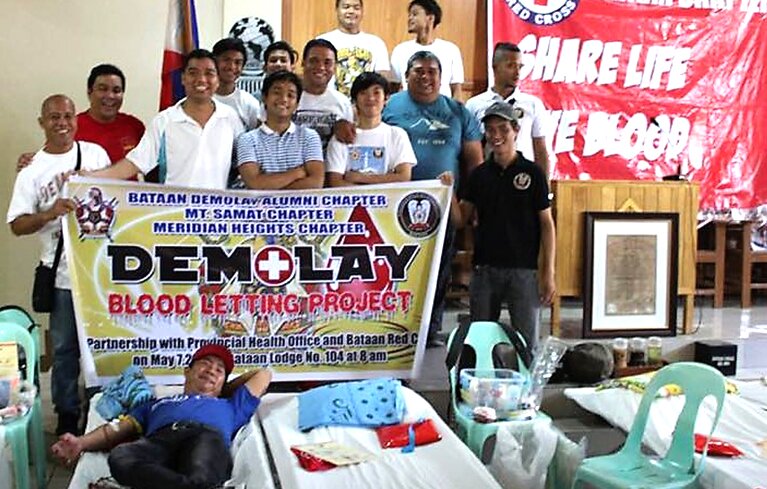 DeMolays From Bataan Organizes Blood-Letting Project
The Active Brethren coming from the Order of DeMolay Chapters in Bataan Province, namely: Mt. Samat Chapter and eridian Heights ChapterM, in partnership with the Philippine National Red Cross (Bataan Chapter) and the Bataan Provincial Health Office, spearheaded a Blood-Letting Project last May 7, 2017 at the Masonic Temple of Bataan Lodge No. 104 situated along Arellano Avenue in Orani, Bataan. The project was also supported by the Senior DeMolays of Bataan DeMolay Alumni Chapter No. 56.
The potential blood donors, coming from Orani and the surrounding towns of Samal and Hermosa, came in droves to participate in the campaign to donate blood. In the same manner, Active and Senior DeMolays also came in numbers to support the project.
Brother Antonio Francisco Guzman, Master Councilor of Mt. Samat Chapter, Order of DeMolay, led the Active DeMolays while Brother Ronnie Remodo, Chapter President of Bataan DeMolay Alumni Chapter No. 56 took charge of the Senior DeMolays who participated in the event.
Brother Chevalier Mabini R. Pulido Jr., Executive Officer for Region III-A of the Supreme Council, Order of DeMolay, was also present to monitor the activity while Dad Ariel Bagang, Deputy Executive Officer for Region III-A and the Senior Warden of Bataan Lodge No. 104, was also in attendance to support the event. Brother Dr. Eduardo Dela Cirna, a Senior DeMolay, facilitated and coordinated the involvement of the eBataan Chapter of the Philippine Red Cross.
After the blood donation, the donors and participants, friends and family members were provided with light snacks and refreshments, such as balut and hot soup, which was prepared by the Brethren of the DeMolay Chapters of Bataan.